Vehicle Transport
For those who are in town, out of town, out of country, or for those who are just plain out of time to deal with the transportation of their vehicle to our facility, AMS offers several options for vehicle transport - from local pick-ups to international pick-up and delivery in total VIP-style!

This is just another example of the exclusive service offered by AMS that has helped to make us Canada's #1 choice since 1992!



Local & International Vehicle Transport - Regular

For both local and international vehicle transport, AMS has its own 22' fully enclosed, fully equipped Pace American V-nosed trailer with 5,000 lb. winch inside. AMS also sports a second fully enclosed trailer and also an open trailer that is suitable for closer-range transportation.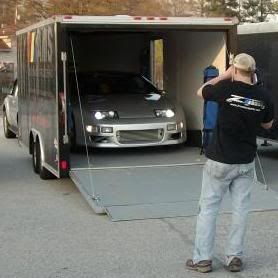 Local & International Vehicle Transport - VIP Style

AMS has agreements in place with several well known and very exclusive companies to provide VIP-style transportation service for our clients. A variety of special packages from these carriers are available solely through AMS.


AMS' first choice is Lee Auto Transport, who has been in the game of vehicle transportation for many years. Lee Auto Transport has catered to the needs of the industry's finest, countless celebrities, and professional athletes by moving their exotic and super-exotic cars around North America on their behalf. Features provided include:

• exclusive access to your very own truck - no other vehicles on board but yours
• trailers capable of carrying up to six of your vehicles at a time
• your own personal driver or team of drivers
• guaranteed availability 24 hours/day, 365 days/year
• no stops, just transport right from point A to B (and back)
• no 'deadhead' charges
• the highest standards of safety, security, and personal service available



Visit Lee Auto Transport here: